FAQ
Luxury housing market shows no signs of slowing down in Toronto, Vancouver and Montreal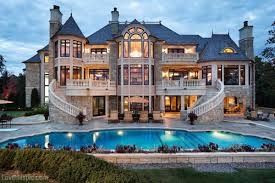 Sotheby's International Realty Canada suggests the high-end market — described as anything that sells for more than $4 million ($1M in Montreal) — is already showing strength through the first two months of 2016 in Vancouver and also Toronto.


Sales in the luxury segment were up 67 per cent in Vancouver in 2015 from a year ago and 71 per cent in Toronto for the same period, the real estate company said.
"Not only was last year impressive, we are already seeing a strong start to the year," said Brad Henderson, chief executive of Sotheby's Canadian operations. "We are seeing price increasing in the markets we report on, Toronto, Montreal and Vancouver. The exception is Calgary where prices are moderating."
The Sotheby's report comes out one day after new February results from Vancouver, where sales jumped 65.6 per cent in February from just a month earlier, according to the Real Estate Board of Greater Vancouver. Prices were not far behind, with the board's benchmark index up 22 per cent in February from a year ago to $795,500. The average detached home in the city sold for $1,816,487 last month.
Contrary to some speculation, Sotheby's won't chalk up the rising prices in the market to foreign ownership levels, even as it says that is a key part of the activity now happening in Toronto and Vancouver.
"I think it's a factor but I don't think it's a dominant factor. I think rather there is a confluence of elements that are aligning and all driving demand," said Henderson, adding that the stronger elements driving demand and prices are limited inventory, strong consumer confidence, a strong economy and low interest rates.
The chief executive said foreign investment is on the rise, driven by instability in the global stock market and a "very attractive" Canadian dollar.
"We find the largest number of sales that we do are to people that are going to use the residence as their principal home," Henderson said.
So what are people actually getting for $4 million these days in Toronto and Vancouver? Something just a tad off the best home in their city's best neighbourhood.
"In Toronto, you can get a smaller home on the periphery of Forest Hill or Rosedale or some of the nicer neighbourhoods," said Henderson. "In Vancouver, if you want to be in the nicer areas like Shaughnessy or the west side, there are higher prices. You won't get something palatial but these are not all tear-downs or small hovels."
The better deals might be in Montreal where Sotheby's considers $1 million luxury. But even in Quebec's largest city luxury home sales climbed 80 per cent over the first two months of the year compared to a year ago.
Like other forecasts, Sotheby's says Calgary prices are being impacted and suggests sellers need to adjust prices. Sales for $1 million or more were down one per cent in the first two months of the year compared to the same period a year earlier.
The Vancouver board says there simply isn't enough product available in the city to meet demand right now, even as the supply of new listings rose 7.1 per cent in February from a year ago. It was up 30.8 per cent from just January.
"We're beginning to see home listings increase as we head toward the spring market, however, additional supply is still needed to meet today's demand," said Darcy McLeod, president of the board. "We're in a competitive, fast-moving market cycle that favours home sellers. Sustained home buyer competition is keeping upward pressure on home prices across the region."