Housing Market
City or suburbs? 4 factors to help you choose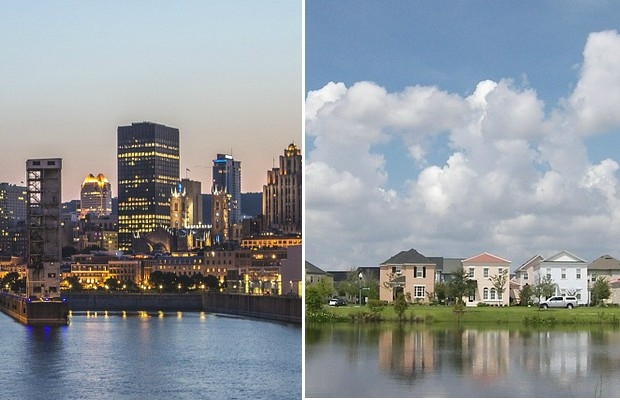 So here you are, ready to become a homeowner for what might be the first, or the umpteenth time! You have an important decision to make: will it be life in the suburbs or life in the city?


To help you out, here are four factors that largely influence the choices of young prospective homeowners.
The Price
Housing prices often cause prospective homeowners to set their sights (sometimes despite themselves) on the suburbs. The pricing difference can be significant, as shown in the table below:
Average price for a standard row house

Montréal Area

Québec City Area

Plateau Mont-Royal : 589 000$

Québec (Haute-ville) : 296 000$

Rosemont Petite-Patrie : 412 000$

Cap-Rouge /Sillery/ Ste-Foy : 291 000$

Brossard : 245 000$

Charlesbourg : 233 00$

Laval : 236 750$

Neufchatel : 212 000$

Longueuil : 232 000$

Beauport : 197 500$
Source : L'étude sur le prix des maisons de Royal LePage, premier trimestre 2013 (http://www-c.royallepage.ca/fr/info-et-conseils/etudes-et-rapports/)
With such a stark pricing difference, it's no surprise that couples such as Jonathan and his partner decided to move to the suburbs after living in Montreal for ten years. "We loved the Petite-Patrie, Cote-des-Neiges, and Southwest neighbourhoods, but there was nothing that was in our price range." They finally fell for a lovely home in Sainte-Julie that was more in line with their finances.
Valerie decided to stay on the Island of Montreal, but had to trade in her dream of a single-family home for a real-life duplex in Ahuntsic. "Having a tenant helps us with the mortgage, and we don't need a second car. And I still got everything I wanted: a backyard, a garden and even a garage."
When trying to evaluate cost of a new home, it is important to ask yourself the following questions:
How much are the municipal and school taxes? Have they been raised recently?
Is the neighbourhood's value going to increase in the upcoming years?
What major renovations will need to be done in the next few years?
What is the cost of upkeep (heating, electricity, natural gas, etc.?)
What secondary expenses will purchasing this home entail? Vehicle (or second vehicle), lawn mower, snow blower, various tools, landscaping, asphalt, alarm system, etc.
Helpful hint: Talk to a real-estate agent who is familiar with the pricing in the neighbourhood you're scoping out.
Transit
The second important thing to consider is transit, or rather, how well you tolerate travelling.
Patricia hates to drive. It was therefore inconceivable for her to live in a place that would require her to take her car (and worse still, sit in traffic!) to get to work. She and her partner therefore opted for a duplex in Verdun, near the green line of the subway. "Luckily, there are also many bike paths near my place, so I almost never need to use my car."
When Marie-Andree and her partner relocated to Sainte-Marthe-sur-le-Lac, they worried that the time they would have to spend in transit—an hour on the commuter train—would bother them. But they have since realized that these two hours spent daily on transit constitute a pleasant respite for this mother, who can read and relax before going home and starting her "second shift" taking care of her little boy.
Here are some questions to ask yourself about transit:
Do you like to drive?
Do you like taking public transit? The commuter train?
How do you react when you find yourself stuck in traffic?
Are you always on time, or more of a last-minute person?
What is the true cost of transportation? *Car: gas, parking fees, car repairs *Public transit: monthly pass, park and ride centre
How do you feel about driving in the wintertime?
Do you need your vehicle for work or will it be parked from 9 to 5?
Is it possible (and practical) to carpool?
Helpful hint: make your way to or from work during peak rush hours at least once before purchasing a home.
Social Network
One aspect that is often neglected when choosing a place to live is proximity to one's social network. And yet new homeowners, especially once they have children, will often attest that this is the most important factor to consider.
Jonathan, the suburbanite, and Valerie, the city girl, are adamant: living near their respective parents-in-law greatly improves their quality of life, especially should a child get sick.
Proximity to friends is also important. Sure, local drugstores may claim that within their walls you find "it all---even a friend!" but you'll be hard pressed to find a sales representative who will be willing to water your plants while you're on vacation!
Moving to a town where you don't know anyone can come with its own set of discontents. Life being the way it is, your best friend will probably visit you less frequently if the time he/she will need to spend in transit exceeds an hour.
Questions to ask yourself:
Is your new home putting you further from your best friends / family? If so, is this a problem for you?
How close by is the nearest person you can count on?
If you have children, do you have available resources in case they get sick?
Helpful hint: Calculate the actual travel time between you and the five closest people in your life. Discuss with them what this distance will mean to your relationship.
Lifestyle
Lastly, you have to consider what kind of life you lead so as to pick the right milieu, and even the right type of residence, for your needs. If, like Patricia, you like biking, neighbourhoods with personality, and restaurants to satisfy your foodie bent, then you'll probably be unhappy in a brand-new, homogenous development. And if having neighbours constantly walking over your head sounds unappealing, then maybe living in a duplex isn't the life for you, be it in Quebec or in Mascouche.
Don't forget that your lifestyle will evolve based on what life brings your way. Like Jonathan, you can be immersed in urban life while in your 20's, but start to see the advantages of the suburbs your have a family. "Yes, there are certainly aspects of city life that I miss, but I'm not ruling out the possibility of moving back once my daughters have left home" he says.
Your lifestyle encompasses many things, such as the activities you like to do, your personality, and even your values. A few questions to help you reflect:
What is your current lifestyle?
Do you think this lifestyle will change within the next 3 to 5 years?
How often do you go the the movies / to restaurants / to bars?
Do you prefer to be constantly discovering new places or to go to familiar places?
Do you require a calm setting? On the flip side, does a calm environment bore you?
Will your new home allow you to practice your favourite sport on a regular basis?
Will you be more or less active than you are now?
Will the services you regularly use (grocery store, shops, health services) be close to your new home?
Is it important to you to live close to nature?
Do the values in this new milieu correspond with your own?
Helpful hint: for a month, take note of all the activities and outings that you do, and assess whether or not you'll be able to do them with more or less ease once you've moved into your new home.
It's a lot to think about, but it's a big decision. Good luck!
IMERIS can help you, no matter what your decision!